12 Marketing Strategies to Drive Traffic to Your Craft Brewery
8 Minute Read
To open a craft brewery, you need some killer brews and a badass brand, but to drive local foot traffic to your brewery, you're going to need some digital marketing artistry. Though word of mouth will always be the best friend of craft beer, a solid local marketing strategy will have a stronger and surer reach, enticing new beer friends and aficionados to step through your doors and stay awhile.
We pumped the pros at Twelve Three Media for their pointers on driving local traffic to your brewery. Our SEO, social media, and paid advertising teams devised a game plan consisting of 12 steps to get butts in seats. Once they're there, it's up to you to keep them coming back for more.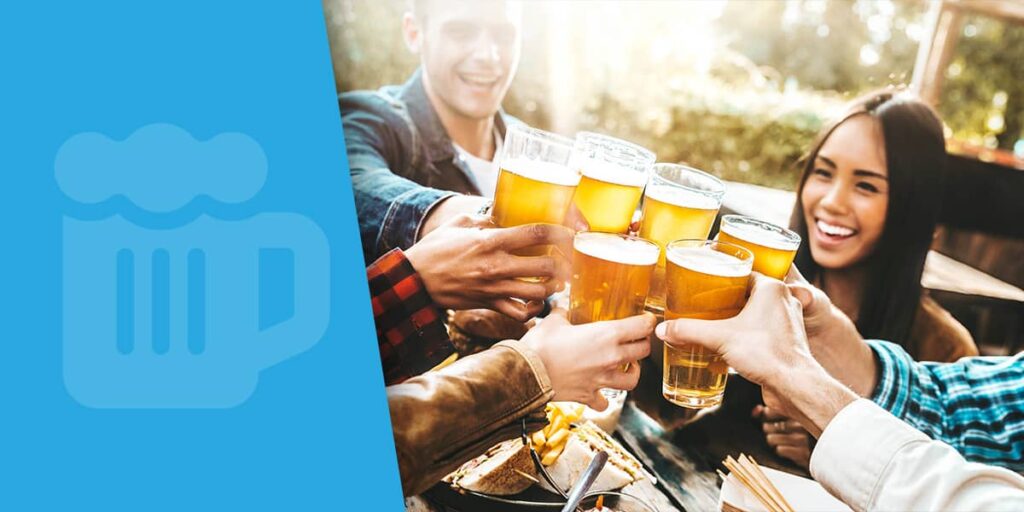 How Do I Get People to Come to My Brewery?
First of all, stop whining! You sound like the new kid at school begging people to come to their birthday party—no need to beg. You've got a product that the masses will love should they get to your brewery. So, let's get them there.
Think constructively and confidently about your business, and take the time to Know What You Don't Know. With an assured attitude and the tips below, your brewery will be packed full of thirsty beer lovers in no time.
How To Drive Traffic to My Craft Brewery
Better. Many mistakenly view digital marketing merely as a tool to boost website traffic. However, it's far more than just accumulating page views. The endgame of a digital marketing strategy is to get living, drinking people through the doors of your establishment to spend their money on your product. A solid action plan includes search engine optimization (SEO), social media, and paid advertising.
Start with SEO
Search engine optimization is the bones of a solid digital marketing strategy. Taking the time to ensure they are sturdy should be the first step in your "bring more to the brew" plan. Our seasoned SEO practitioner, Cary Haun, proposes the following plan of attack:
1. It's NAP Time
Make sure that your NAP data (Name, Address, Phone Number) is correct, consistent, and up-to-date both on and off-site (including in Untappd and TapHunter). Consistency across multiple platforms strengthens and validates your brewery's location information and legitimizes the proximity aspect of the business.
Proximity, along with Relevance and Prominence, is one of the primary factors that help determine Google's local pack positioning. For example, if your brewery is in an obscure industrial location, as they are wont to be, explicit directions and location information are crucial.
Additionally, ensuring you've chosen the most appropriate category in your Google Business Profile (GBP) is essential. How is the Googs supposed to know to send hopheads your way if your business is listed as a Chinese restaurant? Unfortunately, GBP is notorious for lackluster choices when it comes to categories (no "taproom"??), but "brewery" or "brewpub" will generally do the trick. Remember, accuracy and consistency pay off tenfold when it comes to online listings.
2. Structured Data…We'll Explain
The NAP data—specifically, the structured data you can include on the backend—should be as robust as possible. If there is a bit of info that is relevant to your business, and there is a field to put it in—add it. The more information you can provide to your patrons and the search bots cruising your website, the better known your business will be as a whole.
Here are some useful tools for creating and validating structured data:
https://search.google.com/test/rich-results
3. Word of Mouth—Digital to Analog and Vice Versa
A good presence online is a strong presence offline. Word of mouth is still a powerful tool for marketing—especially in today's digital age. How often have you or your friends said to each other, "Here, let me send you the link to that brewery I was talking about."
People talk a lot. So keep them talking about your business by providing an outstanding experience: great specials, awesome events, and spectacular service. Local talk leads to local searches and local traffic. Whether it's catchy branding or a solid product, interest equals traffic. Search engines and craft breweries like traffic.
4. We Want Reviews!
Encourage people to leave reviews about your business—plaster QR codes on table tents and receipts. Remind people through newsletters, social media, and online. Make it easy. Even incentivize. Just get them reviews!
They won't all be good, but they won't all be bad, either. That's the nature of the game. Don't worry about negative or middle-of-the-road reviews. These are opportunities. Address them professionally on the public side, and lead them offline as best you can. This bit of PR will show the public, your patrons, and search engines that you're engaged with your audience and actively monitoring your GBP listing(s).
Go Social
Social media is more than just likes and shares—it is an opportunity to engage directly with prospective patrons. Amuse them, charm them, and inspire them to march out their door and in yours. Our resident social gurus Megan Thielen and Dan Brophy had this to say:
5. Hashtags & Handles
Ensure all your social profiles across every platform have as uniform a name and @ handle as possible. This will increase your discoverability and brand recall and make it easy for guests to find and tag you. (You'd be surprised how many businesses overlook this.)
Reinforce social sharing by plastering hashtags and handles on different items viewable throughout a visitor's experience. This includes menus, glasses, table tents, napkins, signs, etc. Encourage visitors to tag the brewery and make sure to engage with comments, shares, and tags. Reshare, offer a beer on the house when they stop back by, or just say, "Thanks for dropping in!" Authentic engagement creates trust and camaraderie.
6. Curate an Experience
Create an inviting, photo-worthy space that encourages people to take pics and post them on social, tagging the brewery. Ask local artists to paint murals. Design a unique seating area with swings, giant bean bags, or communal tables. Inspire people to share their experiences on their social media.
Engage directly with local patrons. Create monthly or weekly themes for discounts, like wearing pumpkin garb in October, lederhosen in September, or flannel on Fridays, and get $1 off each beer. Not only are people down to get that discount, but you are building a fun and friendly atmosphere.
7. Partner Up!
When trying to build a local following, we cannot stress enough the importance of local partnerships. These can run the gamut from the aforementioned local artists creating Instagrammable spaces or using your walls as a gallery to sourcing local farms for ingredients.
Allow clubs and organizations to meet in your space, offer a discount, and encourage them to share to their socials. Plan a charity event that gives a portion of the proceeds to a local operation. Reach out to influencers or other local businesses that align with your brand to plan events and crossover promotions.
8. Consistency, Consistency…Consistency
Your brand needs to be recognizable across all social media platforms. Invest in good design and consider hiring a professional to capture stellar content and keep your social presence—dare we say it—consistent and worthy of driving engagement and followers.
Vertical video is king right now. However, getting that authentic, behind-the-scenes feel while remaining professional, consistent with your brand, and engaging…well, it can be a mystifying balance. When in doubt, get a pro to ensure that every dime you spend is converting to new feet through the door.
Be aware! Social platforms come with their own rulebook for alcohol brands. Stick to their guidelines, and you're all set to post. That being said, ensure that all special promotions, charity events, happy hour specials, etc., are posted to social media frequently.
Get Paid
Feeling overwhelmed by the prospect of paid ads? Don't. Just know that paid advertising is the compass that guides thirsty local patrons to your brewery's door. Our very own Jason Marvin knows the ins and outs of the paid maze, and he would approach the objective like this:
9. Target Practice
Get suds lovers through the door using the precision of geo-targeting. Utilize geo-fencing by drawing a virtual perimeter around your brewery's location, targeting those who live within or any mobile devices that enter the area. Mobile devices within this defined space receive tailored ads.
You can engage potential patrons with enticing images of your latest brews, captivating videos of your ambiance, native content that seamlessly blends in, or immersive audio ads. You're directly reaching locals and turning casual strollers into thirsty guests.
10. Take It to Your Socials
Tap into geography to create targeted ads, focusing on the local vicinity of your brewery. Both residents and visitors will be greeted by your personalized promotions on platforms like Facebook, Instagram, TikTok, and Snapchat.
These strategic ads, customized to resonate with the locale's vibe and preferences, raise brand awareness and spark curiosity. They bridge the gap between digital engagement and real-world visits, urging users to transition from scrolling on their screens to sipping at your brewery. In today's digital-centric era, pinpointed ads can be the game-changer in filling those seats and boosting your brewery's buzz.
11. Searching for Suds
When someone in your locality searches for "best brewpub near me," your brewery should be topping that SERP. That's the power of a search pay-per-click (PPC) campaign. By strategically targeting relevant terms within the local region, your brewery becomes a top-of-mind recommendation for potential patrons.
PPC ensures that your brand stands out when someone actively seeks an experience you offer. It's not just about visibility; it's about capturing intent. People already in the mood for a brewpub or taproom are presented with your enticing option, making it far more likely they'll choose your venue. With every click translating to potential foot traffic, paid search ads are your direct route to turning online searches into offline "cheers to beers" at your brewery.
12. Make Nice with Review & Booking Apps
By partnering with platforms like Yelp and OpenTable, you're placing your brewery squarely on the map of discerning drinkers and diners. These platforms aren't just about reviews; they are comprehensive guides for individuals seeking the best experiences or charting out their visits.
By promoting your location on review and booking apps, you're tapping into a vast user base, many of whom are actively seeking recommendations and ready to sip and swig. A stellar rating, brew-tiful photos, and rave reviews can set your brewery apart. Moreover, these platforms often cater to both locals and tourists, creating the opportunity to expand your reach. Collaborating with review and booking apps transforms digital interest into tangible foot traffic.
Life Is Too Short to Settle for Mediocre Success
The journey doesn't end once you implement a plan of action. Constantly monitor your progress, pivot based on new data, and keep the cycle going. Most importantly, never stop learning. Keep striving to Know What You Don't Know.
Crafting an impeccable brew is an art, but without crafting a digital marketing strategy as well, you'll have a helluva time getting butts in seats to enjoy those harmonious hops. Embrace marketing that drives traffic to your craft brewery.
Breweries aren't just businesses; they're a testament to the passion and dedication of their owners. And just as you pour your heart into every barrel, Twelve Three Media immerses itself into understanding your brand, ensuring we carve out a digital strategy as unique as your brews.
Ready to elevate your brewery or brewpub's digital footprint? Contact Twelve Three Media today and allow us to create an approach as original and inspired as your tasty brews. Cheers!
Learn How to Build Your Business!
Check out our premium publications tailored to your industry.