Breaking News: Google Is Inadvertently Charging $50K on Ads Instead of $500
2 Minute Read
Customers of Google Ads have recently been getting erroneous charges for enormous sums of money. Just the other day, Twelve Three Media received a credit card charge on a client's Ads account for a whopping $50,000 on services that are usually billed at $500.
---
As you can see below, the cost of the client Google Ads activity for the month of February was just shy of $13,000. That's an overcharge of more than $37,000.
---
Google cites a "technical issue that impacted one of our payment processing partners which led to some Google Ads customers' accounts being overcharged."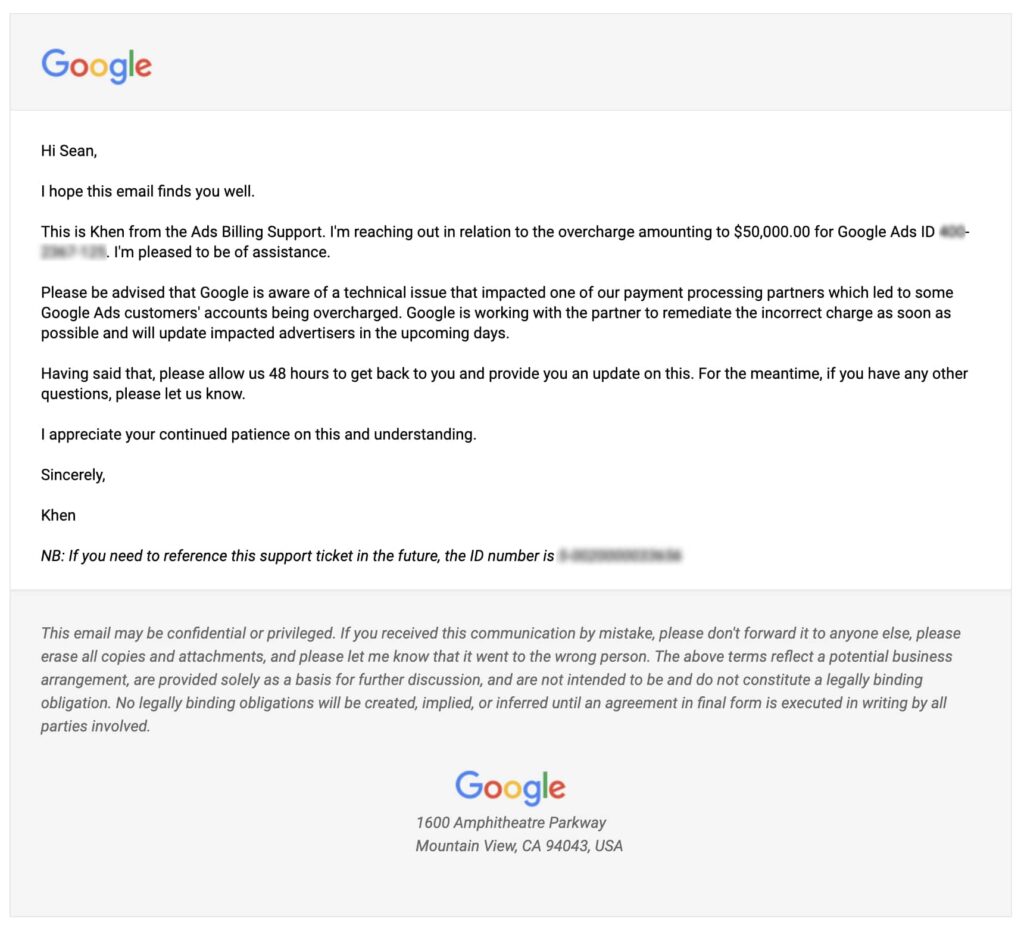 ---
Yeah, no kidding. A glitch that adds a few 0s and moves the decimal point way too many places to the right—and customers actually get charged for that—is way more than a glitch; it's a serious issue.
Sadly, Google has issued no public response to this widespread error. To add insult to injury, the company's communications with individual advertisers have been woefully inadequate. Email tickets consist of lame copy-paste responses. Phone calls with Google go nowhere because employees in the call centers aren't able to see the charges in the customer's Ads account; customers know about it because their credit cards are being inadvertently overcharged.
Meanwhile, credit card companies are being inundated with calls from customers looking to dispute these massive charges. Unfortunately, to dispute the charge, you need to show the statement in the Google Ads account. This leads to a problem, as the charge is only showing up on the credit card and not in Google Ads.
How does a company as big as Google allow this to happen? As a Google Premier Partner, we have dedicated reps we can reach out to in an effort to resolve the problem. For smaller agencies and advertisers, however, a $50,000 charge could spell disaster if it is not remedied quickly.
Digital advertising requires active management. We strongly advise all advertisers who use Google Ads to set up billing thresholds right now. Generally, Google will bill you in $500 increments (NOT $50,000). Setting up a billing threshold may not help with any charges you are currently facing, but it can help you monitor and manage the cost of paid ads going forward.
Additional steps you can take include:
Reach out to your Google Ads rep
Call your credit card company to dispute the charges
For now, advertisers await some kind of update or assistance from Google. An apology would be nice, too. Google has made no effort to reach out to affected customers, leaving advertisers to watch out for massive charges and take action on their own.
We will share all of the latest updates on this situation as they arise. For now, to our agency friends and advertisers across the globe: Hang in there! The best way to hold Google and other big companies accountable is to raise awareness of the problem and show that we won't be ignored.
Learn How to Build Your Business!
Check out our premium publications tailored to your industry.