What You Should Have Done by Now to Set Up Google Analytics 4
9 Minute Read
Google Analytics 4 was first announced in October 2020. It's nearly three years later, and many people—even those who call themselves marketing "experts"—are woefully unprepared for GA4.
On July 1, 2023, Google's Universal Analytics will stop processing data. Starting in July, you will need to rely on Google Analytics 4 to gather insights on your website traffic and activity.
Last year we wrote about the steps marketers and businesses should take to prepare for GA4. If you or your agency hasn't completed these basic steps, you are at risk of losing crucial data.
Twelve Three Media has been working hard to ensure a smooth transition to Google Analytics 4 for all of our clients. Google has made things more challenging by making a series of updates to GA4 to get people comfortable with the new platform, but there are steps that any marketer worth their salt should have done already. We describe these steps below, as well as what you can do to set yourself up for success before it's too late.
1. You Should Have Begun Merging Your Google Analytics
Ideally all Google Analytics users would have begun transitioning to GA4 in 2020 when the new platform was announced. As always, however, procrastination has been the rule rather than the exception. Many marketers, agencies, and businesses are now scrambling to keep their data intact and ensure a smooth transition to Google Analytics 4.
Apparently the countless reminders within Google Analytics about the end of data processing on Universal Analytics weren't enough to communicate the urgency.
What you should do right now: Google Analytics allows you to create multiple properties to track different data on accounts. You still have time to add GA4 properties to your account in Google Analytics.
2. You Should Have Set Up GA4 Earlier to Have Historical Data
For months now, Google Analytics has allowed users to change their preferences for data retention when creating a GA4 property. The default option is 2 months, but you can opt for 14 months.
As Analytics & Reporting Fanatics, we believe that having access to more data is always better. Making smart marketing decisions with incomplete data is like driving an unfamiliar road with a map that's had pieces removed.
What you should do right now: If you've set up one or more GA4 properties, change "User and event data retention" from 2 months to 14 months right away! This will at least provide you with data going back to April 2022.
3. You Should Have Read the GA4 and Universal Analytics Fine Print Warnings More Carefully
One of the major advantages of working on the Google Analytics 4 transition way before the deadline is understanding how the platform works and maintaining control over how the properties are set up. As you'd expect, a lot of grumbling has preceded the sunsetting of Universal Analytics—mostly from people who want GA4 to be more like Universal Analytics.
Google has taken a number of steps to help ease people into making the switch. One of them was the introduction of the GA4 Setup Assistant. Users who haven't migrated to GA4 have the option to "automatically set up a basic Google Analytics 4 property" selected for them. Google began automatically creating GA4 properties earlier this year.
You might say to yourself, "Great! Now I don't have to do anything!" Think again. While helpful, the GA4 Setup Assistant may overwrite key settings. This is especially concerning for digital advertisers, who stand to lose money if Google Ads is not properly linked to their Analytics account.
What you should do right now: If you (a) haven't set up GA4 properties yet or (b) created one or more properties in GA4 but didn't link them to the corresponding properties in Universal Analytics, some of your data may have already been overwritten. You should get in the Setup Assistant section of Google Analytics immediately to see what steps are marked as complete, as well as review the data for anomalies.
Even if you have been proactive in migrating properties to Google Analytics 4, you should still check the GA4 Setup Assistant. If anything is marked complete that you didn't check off yourself, make sure the data you're seeing is accurate. You should also opt out of the setting that automatically creates new GA4 properties.
Technical SEO Specialist Cary Haun recently provided expert commentary on adapting to Google Analytics 4. See what Cary has to say.
4. You Should Have Learned How to Track Events in GA4
Events are a foundational element of Google Analytics 4. To get accurate website data, you will need to ensure that event reporting is set up properly.
Some events are automatically tracked in GA4 (such as ad clicks, downloads, link clicks, pageviews, form interactions, etc.), while others require manual setup. Until your events are set up, reporting in Google Analytics 4 will be incomplete.
What you should do right now: You will likely need to set up multiple events in GA4 to get the insights previously provided by Universal Analytics. If you haven't already, read up on the following to understand what steps to take next:
Enhanced measurement events; Google Analytics 4 collects information on these events automatically, but you may need to adjust the options.
Recommended events; if one or more recommended events apply to you, you will need to enable them and set the parameters.
Custom events; custom events are discretionary and 100% based on the user's needs within GA4.
---
5. You Should Have Learned How Events Are Marked as Conversions in GA4
According to Google, "a conversion is any interaction or occurrence that's valuable to your business." This includes online purchases, filling out a form, signing up to receive a newsletter, etc. As such, conversions are one of the most important elements to set up in Google Analytics 4.
You are already losing mission-critical data if you haven't set up conversions in GA4 yet. Any further delay can result in unreliable reporting that may have short- and long-term consequences for your marketing and advertising.
What you should do right now: Find out how conversions work in Google Analytics 4 and determine what events should be defined as conversions. If you use Google Ads, you should also find out how to import conversion data to GA4.
6. You Should Have Learned How GA4 Counts Conversions Compared to Universal Analytics
Universal Analytics used "goals" to track conversions. In Google Analytics 4, you need to set up "conversion events" to track conversions.
Another principal difference between the two Google Analytics platforms is how conversions are tracked. In Universal Analytics, only one goal completion was tracked per session. Meanwhile, GA4 recommends tracking all of the conversion events in a session. For example, if a website visitor filled out the same form twice, that would be reported as one conversion in Universal Analytics and two conversions in Google Analytics 4.
What you should do right now: Google provides a comparison of various metrics in Universal Analytics compared to those in GA4. While this provides useful background for the differences between Google Analytics 4 and its predecessor, this one document will do little to help you get your GA4 in order.
Refer to the sections above for information on creating events and conversions in GA4. You also need to determine whether you want conversions to be reported once per session (as it has been in Universal Analytics) or once per event (the standard for Google Analytics 4). The conversion counting method can be adjusted in GA4, but whether you should do so comes down to your reporting preference.
7. You Should Have Learned How to Connect Third-Party Platforms and Integrations
Your business may use a number of third-party platforms to gather information about users and the actions they take on your website. If you originally set up integrations for CallRail, Ngage, etc. in Universal Analytics, you will need to make sure any third-party data sources are properly integrated into GA4.
What you should do right now: First, research if and how to connect third-party platforms to GA4. If you find any data sources you don't use anymore, you can cross that integration off your list.
Next, you will need to make sure Google Analytics 4 and each third-party platform is set up to talk to one another. This may involve navigating GA4 as well as each of the platforms you use.
Finally, it is important to understand what settings are unique to Google Analytics 4. This may require research and even some trial and error.
8. You Should Have Linked Other Google Products to GA4
Google has a multitude of products for marketers, advertisers, and webmasters. These include:
Google Ads
BigQuery
Google Search Console
Display & Video 360
Google Merchant Center
And more
Just like third-party platforms, any integrations you created with Universal Analytics will go away when GA4 is the only option for collecting data. Failure to link these products in Google Analytics 4 will leave you reliant on data from individual products, which can skew your reporting.
What you should do right now: Google has published a number of resources for linking GA4 with other products:
The problem with the DIY route is that Google's documentation can be difficult to follow depending on your skill level and familiarity with GA4. Furthermore, all of these documents are subject to sudden changes, which makes it easy to come across conflicting information.
8a. You Should Have Linked Google Search Console to GA4
It is critical for any Google products you use to talk to one another. However, Search Console is one of the most important tools to link to Google Analytics 4.
Google Search Console reports in Analytics provide information about the performance of your organic search traffic. This is crucial for having accurate data on your SEO results.
What you should do right now: Read up on Search Console integration in Google Analytics 4 and the Performance report generated in GA4. When you finish linking a Google Search Console to a GA4 property, you can review important information like the property name, property type, the name of the web stream, and more.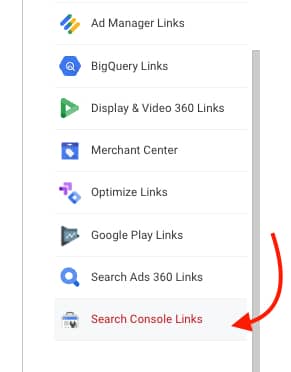 ---
9. You Should Have Modified Conversions from Other Google Products—Particularly Google Ads
Google Ads is one of the most important products to discuss when it comes to setting up GA4. If you don't ensure a smooth transition of Google Ads data—particularly conversions—from Universal Analytics to Google Analytics 4, you could begin losing money on your ads.
What you should do right now: Google allows users to import Google Ads conversions to GA4 and vice-versa. The first step is setting up conversion events in Google Analytics 4 (see section #5 above). Next, you will need to make sure your GA4 and Google Ads accounts are linked. With these pieces in place, you can import conversions actions from Google Analytics 4 properties.
Alternatively, you can migrate conversions from Google Ads to GA4. If you worked on this process before October 2022, you need to see if conversions from Ads are marked as "secondary." Google marked conversions previously migrated from Google Ads as "secondary" to avoid reporting duplicate information. Unfortunately, you will need to change each conversion action to "primary" if you want them reported in the "Conversions" section of Google Analytics 4.
10. You Should Have Learned How to Set Up GA4 Events in Google Tag Manager
Google Tag Manager enables you to quickly add and modify code to your website. For years, skilled marketers have been linking Tag Manager and Analytics accounts to create tags and measure various events.
Predictably, however, Universal Analytics tags will not carry over to GA4. If you don't hustle to learn the new event structure and set up GA4 events with Tag Manager, you're losing valuable data.
What you should do right now: Read up on how to set up Tag Manager events in Google Analytics 4. Pay close attention to the triggers for GA4 events, as these will serve as the parameters for how Tag Manager events are reported.
Need Help with Google Analytics 4?
GA4 is a beast, no doubt about it. Confusion around the platform is understandable considering the changes Google has made. However, time is running out for marketers and agencies to become familiar with Google Analytics 4 and know how to manage and report key insights to their clients.
If you are concerned that your agency is missing the boat on Google Analytics 4, contact Twelve Three Media today. We provide honest, transparent reporting to clients and stay on top of the latest Google product updates.
NOTE: This article was accurate and up-to-date at the time of writing. However, true to Google's nature, all information here is subject to change.
Learn How to Build Your Business!
Check out our premium publications tailored to your industry.